On September 24th, TEC hosted 11 customers at the new Renewaire LEED Gold factory in Waunakee, WI for a day of learning about ventilation and the effects it has in every environment. The event kicked off the evening before downtown Madison with a sushi dinner and ended with a fantastic view of the Capitol building.
The next morning Renewaire's V.P. of Sales and Marketing/Member of ASHRAE 62.1 committee Nick Agopian, started the day off with some frightening statistics about why ventilation is not only necessary, but essential in the health, productivity, and retention of employees. Studies have shown that doubling the suggested rate of outside air from 20 CFM/p.p. to 40 on average only caused a $32/p.p. /yr. rise in operating costs. While raising their productivity 10%, for an average monetary improvement of $6,500/p.p.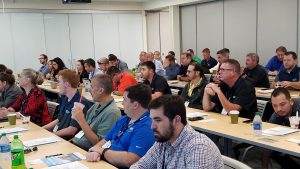 While most of us spend 90% indoors, which does not account for the time spent in our vehicles, investing in increased ventilation is worth every penny. Further studies have shown that a payback of less than 2 years is possible along with an internal rate of return (IRR) of 70%. These are the statistics the CFO will want to hear to make the use of ERVs and higher ventilation rates a no brainer.
The day's agenda was packed and included sessions about ERV fundamentals, codes and standards, application and installation issues, competitive technologies, controls and new products. During the factory tour, we learned how lean manufacturing and cellular assembly stations worked. This allows Renewaire to have the lowest lead times in the industry with very little inventory.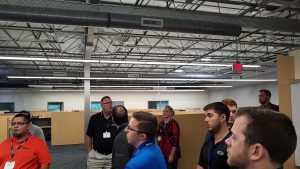 The V.P. of Engineering Neil Werner made sure to explain that in order to achieve their LEED Gold status they had to implement all of the ideas they speak of. The factory uses about $11/hour to run the plant and office. Using energy recovery in all areas helps, but natural lighting is everywhere. There are special parking spots for hybrid and electric vehicles. The office spaces smelled and felt cleaner and more enjoyable.
There was even a guest speaker who demonstrated that most engineers were calculating their DOAS loads incorrectly.
All attendees received 5.75 hours of PDH credit and felt that their time was well spent given the knowledge they gained will go a long way to help designing and specifying ERV in the future. We encourage you to ask your TEC salesperson when the next event will be held so you too can have a day of learning.