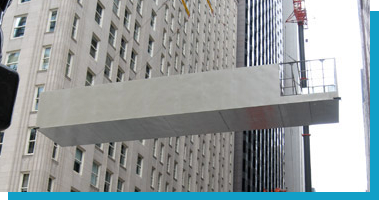 Building a 2-story HVAC system for a church in the sky…awesome!
Modernizing any large church's HVAC system may cause some to sweat. Especially a church as unique as the Chicago Temple – a towering, 90-year-old architectural masterpiece. But we jumped at the opportunity.
And we created the largest air handlers…ever.
Working closely with a team of designers, architects and engineers, TEC and Racan-Carrier designed, built and placed the 20-foot-high system precisely 23 stories up.
But enough small talk. The numbers speak volumes.
20 weeks to manufacture 30 air handling modules
16 tractor-trailers to transport the 30 modules
13 tractor-trailers of parts = 1 massive crane
2-story custom air handling unit assembled 23 stories up
48 hrs to assemble the entire unit
16ft

2

air duct
235,000 CFM - capacity of 200 large homes
4,743,000 lb reduction in carbon emission/year (footprint of 118 Americans)
$185,000 approximate annual energy savings
50% reduction in total energy usage